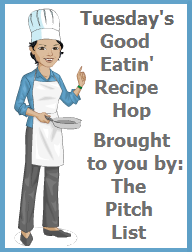 Welcome to the Good Eatin' Recipe Hop
hosted by
The 'Pitch List' Bloggers
Every Tuesday you can join us to share great recipes.........
There are no specific themes.
Add your recipe of choice to the linky.
No Giveaways Please...all giveaways will be removed.
We Love Comments! Please Share!
Strawberry Muffins
! This recipe was something out of a really cute cookbook that my daughter received, A Strawberry Shortcake Cookbook. She had so much fun helping me make these and they tasted so good I thought I would share! Be sure to also check out the other great recipes and feel free to add yours!